The Norse gods belonged to two major clans: the Æsir and the Vanir. The Æsir pantheon was the more powerful and warlike of the two and contained Odin, Frigg, Thor, Loki, Baldr, Hod, Heimdall, and Tyr. The Vanir were more concerned with agriculture, the weather, and fertility. Their main gods were Njord, Freyr, and Freyja.
How Many Norse Gods And Goddesses Are There?
Some sources claim there are over 60 gods.
According to Norse mythology, the giant Ymir produced all the gods and goddesses.
| | | | |
| --- | --- | --- | --- |
| Name | Gender | Group | God of |
| Baduhenna | Goddess | | war and storms |
| Baldur (Baldr, Balder) identified with the Old English bealdor = 'lord' or 'prince' | God | Æsir | beauty, love, purity, peace, righteousness |
| Beyla a younger form of Old Norse Baunila = 'little bean' | Goddess | | earth |
| Bil | Goddess | Ásynjur | waining moon |
| Borr (Bor, Bör, Bur, Burr) | God | Æsir | |
| Bragi (Brage) connected with Old Norse Bragr = 'poetry' | God | | knowledge, poetry, eloquence, and the patron of skalds |
| Buri (Búri, Bori, Bure) | God | | gods |
| Byggvir Old Norse = 'barley' | God | | |
| Dellingr (Delling) Old Norse = 'luminous' or 'shining one' | God | Æsir | personification of dawn |
| Eir (Eil, Eira, Eyr, Eyra) Old Norse = 'protection' or 'help' | Goddess | Ásynjur | healing |
| Eostre (Eastre, Ostara) | Goddess | | spring, rebirth, and protectress of fertility |
| Forseti (Forsete) Old Norse = 'presiding one' | God | Æsir | justice |
| Freyja (Freya, Freja, Frey'a, Gefion, Horn, Mardal, Mardoll, Menglad, Menglod, Moertholl, Sessrymner, Syr, Vanadis) | Goddess | Vanir | fertility, love, beauty, magic, war, and death |
| Freyr (Frey, Fraig, Fro, Fricco, Ingun, Ingunnar-Frey, Ingvi-Frey, Sviagod, Yngri, Yngvi) | God | Vanir | agriculture, prosperity, life and fertility |
| Frigg (Frigga, Frig, Fri, Frija, Frygga, Frea, Fria, Frige, and Holda) Old Norse = 'to love' | Goddess | Ásynjur | love, marriage, fertility, family, civilization, and a prophetess |
| Fulla (Abundantia, Abundia, Habone, Vol, Vola, Volla) | Goddess | Ásynjur | |
| Gefjon (Gefjun, Gefion) Old Norse = 'the giving one' | Goddess | | knowledge |
| Gersemi (Gersimi, Gerseme) Old Norse = 'gem' | Goddess | Ásynjur | love |
| Gerda (Gerd, Gerdhr, Gerðr) | Goddess | Vanir | |
| Gna (Gná, Gnaa) | Goddess | Ásynjur | |
| Gullveig (Gollveig, Gulveig, Golveig-Heid, Gulveig-Hoder, Angerboda, Angerbohda, Aurboda, East Wind Hag, Heid, Heidr, Ljod, Midgard, Orboda, The Volva) | Goddess | Vanir | |
| Henir (Hoeni, Hœnir, Hone, Honer, Honir) | God | Æsir | |
| Hariasa | Goddess | | war |
| Heimdall (Heimdal, Heimdallr, Heimdalr, Heimdali) | God | Æsir | guardian |
| Hel (Heimdal, Heimdallr, Heimdalr, Heimdali) | Goddess | | the dead |
| Hermod (Hermóðr, Heremod) Old Norse = 'war spirit' | God | Æsir | messenger of the gods |
| Hlin (Hlín, Hlina) Old Norse = 'protectress' | Goddess | Ásynjur | |
| Hodr (Höðr, Hod, Hothenus, Hodar, Hoder, Hodhr, Hodir, Hodur) | God | Æsir | |
| Idun (Iðunn, Iduna, Idunn, Idunna, Ithun, Ydun) | Goddess | Ásynjur | spring and rejuvenation |
| Irpa Old Norse = 'brown' | Goddess | | earth |
| Lofn Old Norse = 'the comforter' | Goddess | Ásynjur | love |
| Lodurr (Lóðurr, Lodur, Lóður, Lódurr, Lódur, Lóthurr, Lóthur, Lódhurr, Lódhur, Lodur, Lothurr, Lothur, Lodhurr, Loðurr, Loður, Lodhur) | God | Æsir | life |
| Loki (Fjalar, Loder, Lodur, Loke, Lokkju, Lopter, Lopti, Sagloki, Suttung, Thok, Utgard-Loki) | God | Æsir | fire, magic, shape-shifting, trickster, chaos |
| Mani (Máni, Mane) | God | Æsir | personification of the moon |
| Mimir (Mim, Mímir, Mimar, Mime, Mimer-Nidhad, Baugreginn Jotunn, Hodd-Dropnir, Hodd-Mimer, Hoddrofnir, Naddgofugr) | God | | wisdom |
| Meili Old Norse = 'the lovely one' | God | Æsir | |
| Nanna Old Norse name deriving from Ancient Germanic nanþi = 'daring' | Goddess | Ásynjur | |
| Nerthus (Nertous) | Goddess | Vanir | incarnation of the Mother Earth |
| Njord (Njörðr, Njörd, Niördr Niord, Njorth, Nordur) | God | Vanir | the sea, the wind, fertility, patron saint of fishermen and sailors |
| Njorun (Njörun, Niorun) | Goddess | Ásynjur | |
| Odin (Alfdaur, Alfadir, Bileygr, Glapsuidir, Othinn, Wodan, Wotan, Othin, Othinn, Othinus, Ouvin, Votan, Wode, Wodemus, Wodhen, Woden, Wodin, Wotam, Woutan, Wuotan) | God | Æsir | wisdom, war, magic, poetry, prophecy, victory and death |
| Odr (Óðr, Od) | Goddess | Vanir | |
| Ran Old Norse Rán = 'theft' | Goddess | Ásynjur | the sea and death |
| Saga Old Norse Sága = 'seeing one' | Goddess | Ásynjur | wisdom and treasure |
| Sandraudiga | Goddess | | |
| Sif Old Norse = 'wife' | Goddess | Ásynjur | harvest and land |
| Sigyn (Siguna) | Goddess | Ásynjur | earth |
| Sinthgunt | Goddess | | |
| Sjofn (Sjöfn, Sjofn) | Goddess | Ásynjur | relationships, love, and marriage |
| Skadi Old Norse Skaði = 'death' | Goddess | Vanir | hunting and winter |
| Snotra Old Norse = 'clever' | Goddess | Ásynjur | wisdom |
| Sol (Sól, Sunna) | Goddess | | personification of the sun |
| Syn Old Norse = 'refusal' | Goddess | Ásynjur | defense and truth |
| Thor (þórr, þunor, Thunaer, Donar, Thur, Tor, Tror) | God | Æsir | strength, protection, war, storms, thunder and lightning |
| Thrud (þrúðr, Thrúd, þrúðr) | Goddess | | |
| Thorgeror Holgabruor (þorgerðr Hölgabrüðr) | Goddess | | |
| Tyr (Týr, Tiw, Tig, Ziu, Teu, Thingsus, Tiwaz, Ty, Tyw, Zio, Ziv, Ziw) | God | Æsir | war, justice in battle, victory and heroic glory |
| Ullr (Auler, Holler, Oller, Ollerus, Uller, Ullerus, Ullr, Wuldor) | God | Æsir | justice and winter |
| Vali Old Norse Váli = 'the slain' | God | Æsir | vengeance |
| Var (Vár, Vara, Vór) | Goddess | Ásynjur | |
| Ve (Vé) | God | Æsir | creation |
| Vili | God | Æsir | creation |
| Vor Old Norse Vör = 'the careful one' | Goddess | Ásynjur | wisdom |
| Zisa (Cisa) | Goddess | | harvest |
source: historylists.org
The Most Important Norse Gods
Æsir
1. Odin (also known as Woden and Óðinn)
Odin is the supreme deity in Norse myth and the Allfather of the Æsir.
Odin was the son of Bestla and Borr (son of Búri, one of the first gods) and had two brothers, Vili and Vé. He fathered many sons, the most famous were Thor (with Jord) and Baldr (with Frigg). He was not Loki's biological father.
His desire for wisdom made him hang himself from the World Tree, Yggdrasil, for nine days and nights until he became blessed with the knowledge of the runic alphabet. He also sacrificed an eye to obtain wisdom from the sage jötunn Mimir (not losing it in the battles with the jötnar, as in the Marvel movie Thor). Odin came into possession of the giant's head, which he cast enchantments on, so it would continue to impart knowledge and secrets.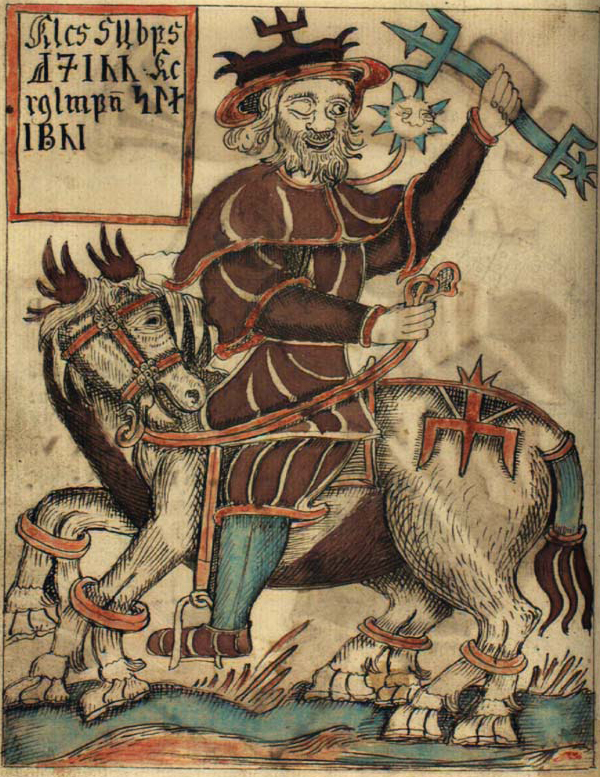 Odin often appeared wielding his spear, Gungnir, accompanied by his ravens Huginn and Muninn (who bring him information from Midgard) and the wolves Geri and Freki. He rode the eight-legged steed Sleipnir across the skies.
Odin, Vili, and Vé created the Earth (also personified as the goddess Jord) from the giant Ymir's corpse. His blood made the seas, his bones the mountains, his hair the trees, his brains the clouds, and his skull the heavens. His eyebrows became the protective boundary around Midgard.
In addition, a stanza in the poem Gylfaginning tells how Ymir's flesh created the first dwarfs.
2. Thor
Thor is Odin's best-known son and the second most famous god. Thor was the protector of humanity in Midgard and, of course, the mighty god of thunder.
Thor's hammer was called Mjölnir and represented bravery, strength, and healing. Many tales attest to his mighty power, not-so-mighty intellect, and his unrelenting talent for getting into (and out of) tight spots.
3. Loki
The trickster god Loki is the god of mischief. He was a shapeshifter, taking the form of animals like a horse, fly, or salmon. Although not born in Asgard, Odin took him there as an abandoned child when the Allfather found him in Jotunheim while fighting the jötnar.
He tricked the blind god, Hodr into killing Baldr, Hodr's brother, and Odin's son. Frigg had used a magic spell on Baldr, making him impervious to any material. However, Loki discovered that mistletoe could hurt Baldr and had Hodr throw a mistletoe spear at Baldr, killing him.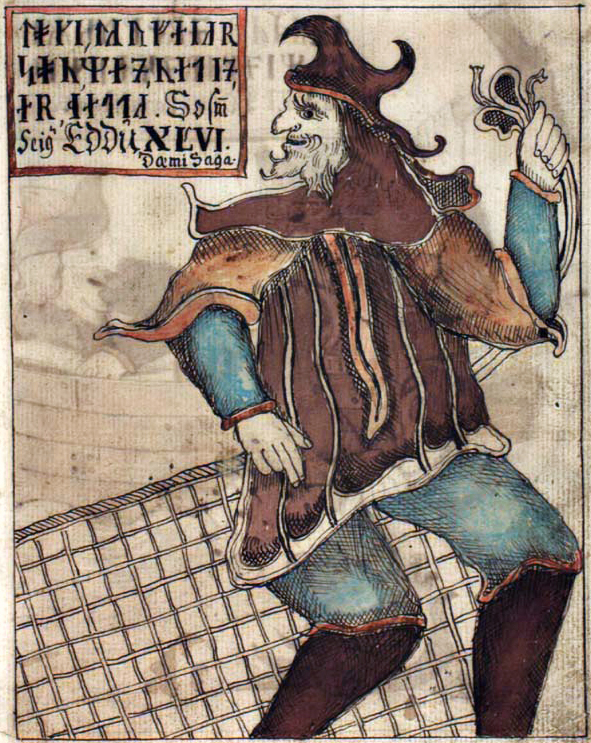 Loki was the son of Fárbauti (a jötunn) and the goddess Laufey. He fathered three nightmarish children with the jötunn Angrboda: Hel, the goddess of the underworld or the dead; Fenrir, the giant wolf prophecized to kill Odin during Ragnarök; and Jörmungandr, the huge, poisonous serpent that circled the realm of Midgard, submerged in the sea.
In one story, the stallion Svaðilfari impregnated Loki while he was transformed into a mare. He later gave birth to Odin's horse Sleipnir.
4. Baldr
Odin and Frigg were the parents of the "gleaming" god of light Baldr (or Balder). He is also the god of joy and purity and the father of Forseti, the god of justice.
All gods and human beings loved him as he was so generous, handsome, and good.
The Gylfaginning mentions Baldr's ship Hringhorni as the finest ever made. Breiðablik, his abode in Asgard, was exceptionally beautiful.
Baldr's mother made him invincible to attack from anything but mistletoe. Loki tricked Baldr's brother, Hodr, into throwing a mistletoe spear at him, killing him instantly. Asgard was sent into mourning by this event, with Baldr's wife, Nanna, even killing herself when she received the news.
5. Hodr
Hodr, also spelled Hod, Höd, Hoder, Höðr or Hodur, is the blind Norse god of the night. He was a son of Odin and Frigg and brother to Baldr and Hermod.
Loki tricked him into killing the adored god Baldr with a spear made of mistletoe. Odin fathered Vali with the giantess Rindr – he matured fully in one day and killed Hodr.
6. Heimdall
Heimdall lived in a hall in Asgard called Himinbjörg and is the gatekeeper of the Bifrost (the rainbow bridge that linked Asgard and Midgard). He had keen eyesight and hearing and could also see into the future. He is described as having teeth of gold and being "the whitest of gods."
Heimdall used the horn Gjallarhorn and rode a horse with a golden mane called Gulltoppr. His parents were Odin and the Nine Mothers of Heimdallr.
Loki and Heimdall clashed on a couple of occasions. The first was when Heimdall recovered Freyja's treasured necklace Brísingamen, which he obtained while transformed into a seal. They also battled during Ragnarök, finally killing each other.
7. Ullr
Ullr is often called the god of winter and skiing, although the Prose Edda does not mention these facts. He lived in a little-known place called Ýdalir, and there are accounts of him replacing the "god of summer," Odin, during the winter months.
Chapter 31 of Gylfaginning refers to Ullr as a son of Sif, which means he was Thor's stepson.
8. Týr
Týr is often cited as the god of war in Germanic mythology. Týr sacrificed a hand to the monstrous wolf Fenrir, allowing the wolf to be captured and chained.
Ragnarök predicted the wolf or dog called Garmr would kill and devour Týr during the battle.
9. Vidar
Vidar is god of vengence and the son of Odin and the jötunn Gríðr. He avenged his father's death during Ragnarök by killing the giant wolf Fenrir, using his magic sandals to force the animal's jaws open.
Vidar was one of the few gods that survived this end of days. In Prose Edda's Gylfaginning, Vidar is described as a "silent god" and is almost as mighty as Thor.
10. Bragi
Bragi is traditionally known as the god of poetry (or skáld) and music in Norse mythology.
He was famous for his wisdom and mastery of words, not to mention for having the most extensive knowledge of poems and songs in the nine realms.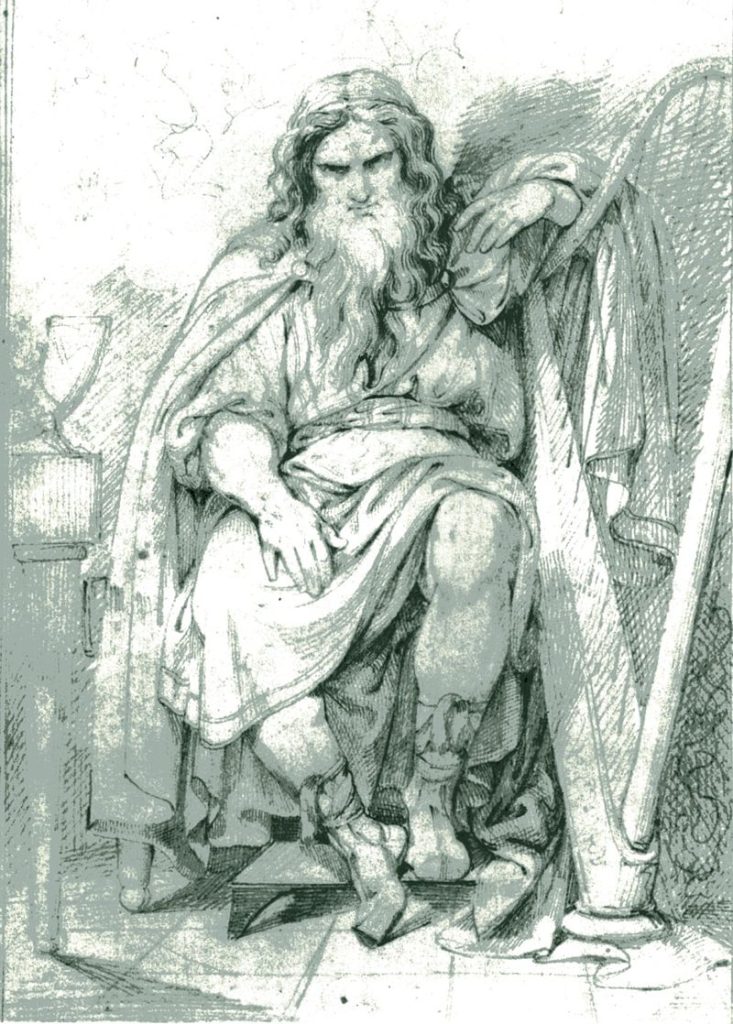 11. Vili
Vili is the god of intelligence and touch and the brother of Odin and Vé.
12. Vé
Vé is the god of speech, hearing, and sight. He was rumored to have beaten Odin in a duel and was sent to the underworld as punishment.
13. Vali
Vali, or Vale, was Odin's youngest son. His mother was the giantess Rind, and he is generally associated with archery and depicted with a bow and arrow.
He is one of the gods of revenge, and he was explicitly conceived to kill his half-brother Hodr and avenge the murder of his other half-brother Baldr. He grew to full maturity in one day.
Vanir
14. Njord
Njord is the first Vanir god and lives in Nóatún (Old Norse: Njörðr, meaning: "ship-enclosure"). According to the Gylfaginning, Nóatún was a port located "in Heaven." Texts identify Njord with the sea and seafaring, the winds, wealth, and crop fertility.
Njord appears as a beloved mythological early king of Sweden in Heimskringla, another work by Snorri Sturluson, a book of tales about Norwegian and Swedish kings.
Abundant harvests, peace, and prosperity characterized Njord's reign, so much so that the people believed he could control crops and wealth. His body was burnt in tribute by the Swedes when he died, and there was great mourning. Freyr succeeded him as reigning monarch.
There is no conclusive evidence about Njord's wife and the mother of his children. Some sources indicate he married his sister, and she bore Freyr and Freyja. His marriage to Skadi was not destined to last as they were ill-suited and preferred vastly different lifestyles. Skadi was not the mother of his children.
15. Freyr
Freyr succeeded his father as king of Sweden. He is also well-loved and presides over many bountiful harvests. Proof of Freyr as a god of fertility is evident as many of his images feature a giant phallus.
The gods made Freyr ruler of the elf kingdom, Alfheim. He rode the golden-bristled boar Gullinbursti, created by dwarves, and owned the ship Skíðblaðnir, described as the finest vessel ever constructed. Skíðblaðnir always found good winds and folded away into a bag when necessary.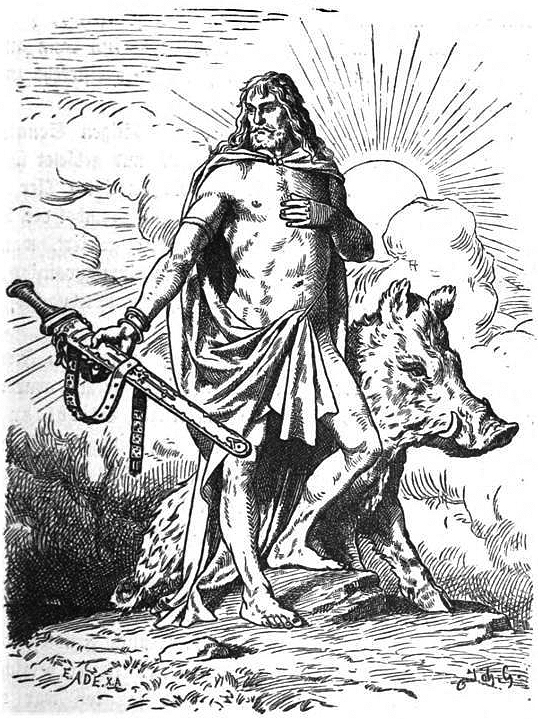 Freyr fell in love with the jötunn Gerðr (Gerd). However, to become her husband, he had to relinquish his magic sword, which could wield itself if the user were wise enough. Freyr had to fight the jotunn Beli without the sword but killed him with an antler. The prophecy of Ragnarök decreed that Surtr would kill Freyr during this end of days.
16. Kvasir
Two dwarves, Fjalar and Galar, killed the spreader of wisdom, the Vanir Kvasir (born of the saliva of the Æsir and Vanir), added honey to his blood and created the magical mead of poetry.
Drinking this mead gave wisdom and the gift of skaldship: the ability to compose the complex and sophisticated skaldic poetry.
The Moat Important Norse goddesses
We can also divide this list into Æsir and Vanir. However, Frigg was originally from Vanaheim but formed part of the Æsir pantheon as she married Odin.
Æsir
17. Frigg
Odin's wife, Frigg, is a soothsayer and the goddess of love, beauty, and fertility. As Odin's wife, she was a powerful and formidable character.
She was a loving mother and tried to protect her son Baldr from ever coming to any harm. She held her own with Odin, tricking him on one occasion by convincing him a group of women were men by having them pull their long hair over their faces to resemble beards.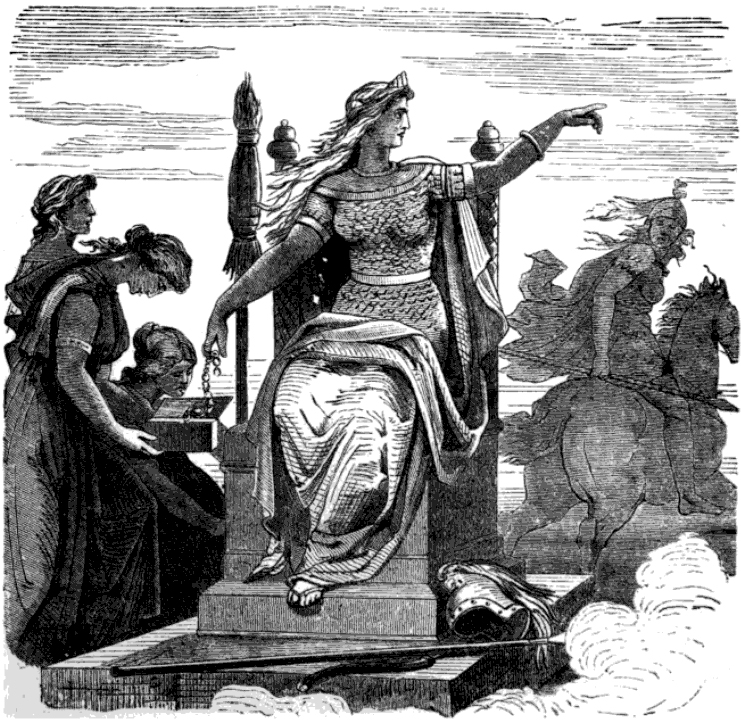 Frigg was the wife of Odin and the mother of the "gleaming god" of light, Baldr, Hermod (the messenger of the gods), and the blind god Hodr (twin of Baldr). Thor was not Frigg's son, although she raised him.
Frigg is associated with fertility and marriage, and she certainly seemed to be a loving mother, although some stories depict her as not being a faithful wife to Odin. However, there are extenuating circumstances surrounding some of these events.
Frigg's most frequently attributed powers are her intelligence, soothsaying, and prophecy. She is also often strongly associated with marriage, childbirth, and motherhood.
18. Idun
Next to Frigg and Freyja, Idun is the best-known female goddess in Norse legend. She was the wife of Bragi, the god of poetry, and the guardian of the magical apples that maintained the youth and vigor of the Æsir gods.
She was involved in a tremendous adventure with Loki, who had allowed the jötunn Þjazi to kidnap her because he wanted her apples of eternal youth.
However, the Æsir gods told Loki to rescue her, which he did while transformed into a falcon, turning her into a nut so he could carry her more easily.
Vanir
19. Freyja
Freyja (Freya) was Freyr's twin sister. She is the most famous goddess in Viking society, along with Frigg. She was the masterful practitioner of a magic called seidr and the Norse goddess of love, fertility, beauty, sex, gold, and war.
Freyja was the queen of the Valkyries, who brought dead warriors to her halls at Folkvangr. Odin was the ruler of the Asgard equivalent, Valhalla.
Freyja's powers were typical of Vanir gods: gentle and related to agriculture, magic, and love. She had two daughters with her husband, Óðr: Gersemi and Hnoss.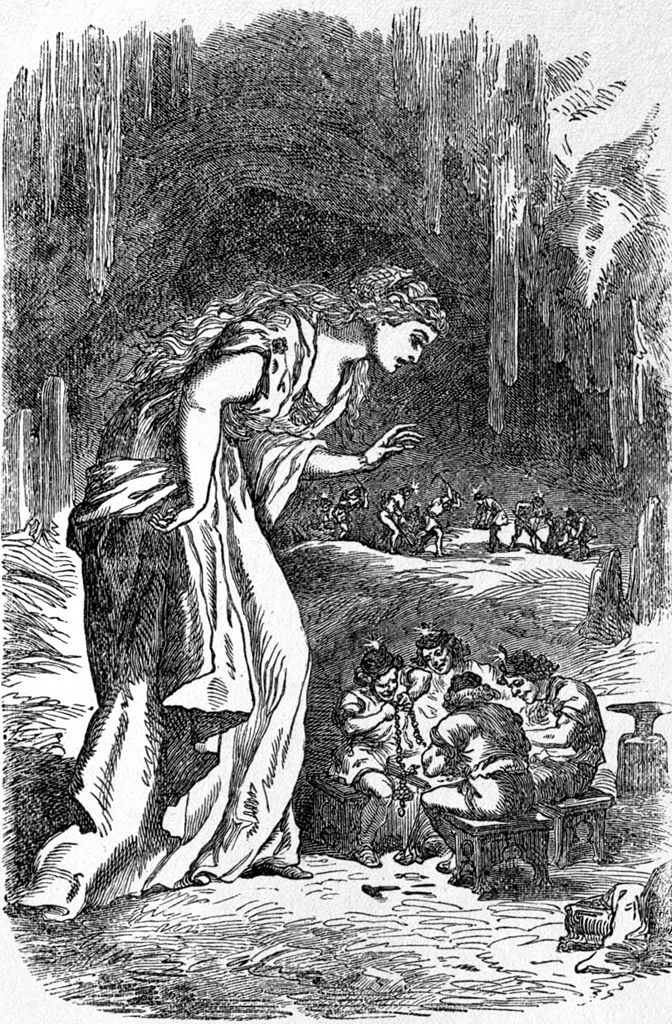 Neil Price, an English archaeologist specializing in Viking Age Scandinavia, mentions that Thor presented Freyja with two cats which she used to pull her chariot. Freyja had a boar called Hildisvíni.
You will often see images or paintings of her wearing the fire necklace or torc, Brisingamen. Freyja also owned a fjaðrhamr, or cloak of falcon feathers.
20. Gullveig
Gullveig is a sorceress skilled in the ways of seidr. Two stanzas from the Völuspá may indicate that the Æsir-Vanir war probably started after Gullveig came to Odin's Hall in Asgard. Warriors stabbed her with spears and burnt her three times – she returned to life on each occasion. On her third reincarnation, she took the identity of Heiðr.
Gullveig is depicted as a witch or völva (or seeress – a sorceress and soothsayer) and often has associations with gold.
Gabriel Turville-Petre, John Lindow, and Simek have postulated the theory that Gullveig/Heiðr is the same figure as Freyja.
21. Nerthus
An early feminine etymological form of "Njord" – some sources report Nerthus as the sister and wife of Njord and a fertility goddess.
Unaffiliated
22. Hel
Loki's daughter, Hel, is the guardian of the realm of the dead in Norse mythology. She was the progeny of a demi-god. Hel was a dark and brooding presence but not necessarily evil. Odin's son, Hermod, convinced her to release his brother, Baldr, from Hel's realm, even if he was unsuccessful.
Hel was the only daughter of the trickster god Loki and the giantess Angrboda. Her monstrous siblings were the wolf Fenrir and the serpent Jörmungandr.
Viking descriptions of Hel depict her as being half-black or half-blue and half-white. She had a gloomy and threatening disposition.
Although often called "Goddess of Death" or "Goddess of the Underworld" and decreed by Odin to rule the realm of the dead, Hel is not attested in the Prose or Poetic Eddas as being a goddess of any kind. No text or poem mentions her having special powers.
What Is The Difference Between The Æsir And The Vanir?
The Æsir have more associations with war, influence, and power. The Vanir are gentler and more related to agriculture, magic, and love, in keeping with their homeland's pastoral nature.
Curiously, the Prose Edda and the Poetic Edda use "Æsir" to depict male gods in general.
The poem Skírnismál refers to the Vanir Freyr as an Æsir prince. The Prose Edda says his father, Njord, also from Vanaheim, is the third of the Æsir. And it describes Freyja as being second only to Odin's wife, Frigg, among the Ásynjur (or female Æsir goddesses).
Who Are The Strongest Viking Gods?
Odin is the most powerful of all the Norse gods. Although Thor is perhaps the most physically powerful of the pantheon of Æsir gods, Odin is probably a more formidable opponent due to his knowledge of magic.
However, he could still not stop the enormous wolf Fenrir from killing him during Ragnarök. Maybe Odin allowed himself to die, as he had sacrificed himself before in his search for knowledge and wisdom.
Although Thor had some close shaves in his various escapades across the nine realms, he defeated even the biggest giants and the fiercest enemies. Only the colossal venomous serpent Jörmungandr could beat him and, even then, was mortally wounded by Thor.
Who Are The Evilest Viking Gods?
Loki had an evil side, reputed to have developed after he ate the heart of the witch Gullveig after Odin's soldiers burnt her alive three times (she came back to life each time).
Odin had an evil side, too, killing Ymir and waging war on Vanaheim for little or no reason.
What Is Norse Mythology?
Norse, Nordic, or Scandinavian mythology is the beliefs, legendary tales and poems, and religion of North Germanic tribes dating back to the 9th century.
Old Norse religion continued after Christianity arrived in Scandinavia in the 8th century and is still present in Nordic folklore.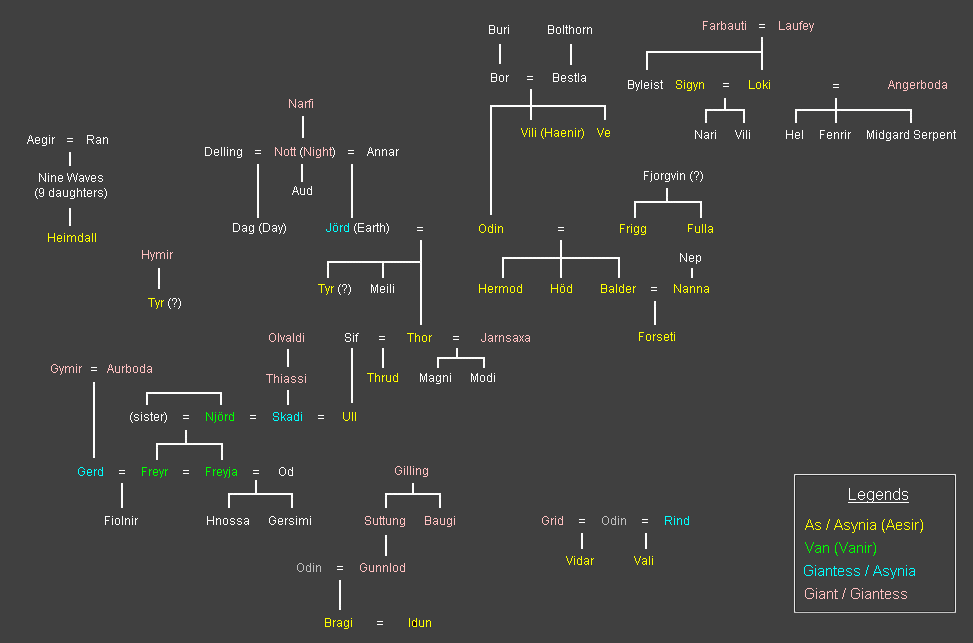 When Did Norse Mythology Start?
Most researchers and experts concur that the earliest stories of Old Norse mythology date back to about 800 AD.
However, images and symbols depicted on runes, rock art, or old Scandinavian gold medals and pendants, known as "bracteates," go back to the 5th century AD or even earlier.
Do People Still Believe In Norse Gods?
Ásatrú is a religious following that resurrects aspects of Viking and Icelandic pre-Christian religion.
Iceland recognized the faith in 1973, and with more than 5,000 members, the BBC reported in 2019 that it was one of the fastest-growing religions in that country.